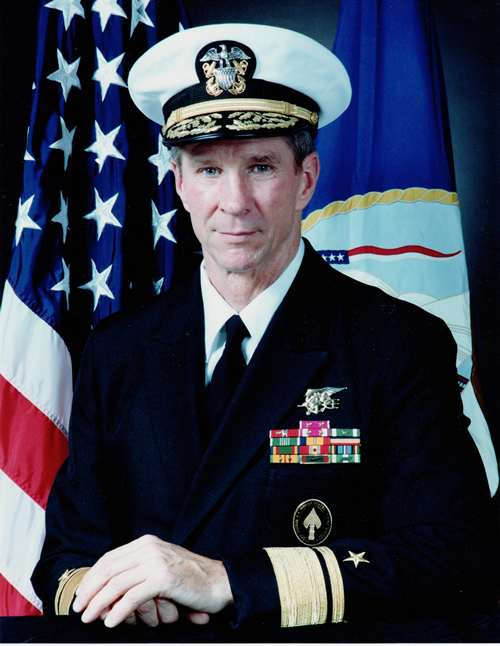 A native of Brownsville Texas, Admiral Irve Charles LeMoyne graduated from the Georgia Institute of Technology in 1961. He was commissioned an ensign in the Navy and after graduating as the Honor Man of his class, he underwent underwater demolition team training in Little Creek, VA.
In October 1966 he was assigned to SEAL Team ONE in Coronado and was twice deployed to Vietnam as an executive officer. Admiral LeMoyne commanded Underwater Demolition Team 11 from June 1969 to April 1971 in the Western Pacific and in Vietnam.
In 1972, he was assigned to Naval Postgraduate School in Monterey, where he received a master's degree in management. He furthered his education in 1977 at the National War College and was assigned in 1978 as commanding officer of the Inshore Undersea Warfare Group 1.
After the failure of the rescue of American hostages in Iran in 1978, Admiral LeMoyne was among those who pushed for an overhaul and integration of the nation's military special operations units, in particular, uniting the special forces of the Army, Navy, Air Force and Marines. He urged senior Navy commanders to work with the other services to improve communications, coordination and equipment among the special operations units of the military.
After founding the Naval Special Warfare Command in Coronado, California in 1967 and serving as the first commander in charge of all Navy SEALs and Special Boat Units, Admiral LeMoyne rose in 1993 to be deputy commander of the United States Special Operations Command based in Tampa, Fla.
Among his many decorations were the Defense Distinguished Service Medal, three Legions of Merit and two Bronze Star Medals with combat V device.
On January 4, 1997 Admiral Charles LeMoyne died of cancer. Among the many from around the world who eulogized him, the words of Admiral Thomas Richards, Commanding Officer of Naval Special Operations best summed up the feelings that day when he said, "Chuck exemplified the very best of the Navy SEAL community and the Navy's core values of honor, courage and commitment. The remarkable courage and dignity with which he faced his greatest adversary was truly inspiring. We will miss his leadership, his integrity and warm gentlemanly demeanor.
Letter From Lieutenant General (ret) John M. LeMoyne Deputy Chief of Staff, G-1 United States Army